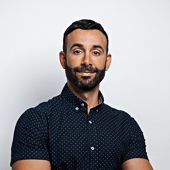 Andrew Harb
Programme Director – 3. Client Services
A day with Andy.

PROGRAMME DIRECTOR, MADRID, ES.
With 15 years across brand and technology, Andrew is experienced in delivering technology and brand solutions ranging from large web builds with global country rollouts, e-commerce, brand optimisation and marketing campaigns across a wide range of industries including media, FMCG, government, banking, telecommunication and transport. Connect with me on LinkedIn ↗

Tell us a bit about what a Program Manager does?

At Saffron the Project Management function is about ensuring both a healthy project outcome and a healthy client relationships.

We're responsible for planning programs from start to completion which includes resourcing, forecasting, project planning, reporting and budgeting.

What does an 'average' day look like?

I have 3 words for you, planning, planning, planning. When we're not planning we're ensuring there are no blockers for the teams so that they can do their job smoothly.

We're constantly working closely with the teams to ensure we're all delivering against the client's brief and requirements.

What projects are you currently working on?


I'm working on The Valuable 500 who's ultimate goal is to address disability inclusion by making sure it's front of mind for the top 500 business leaders.

What has been your favourite project at Saffron so far?

The Xplor programme has been my favourite project to date. It was an opportunity to truly deliver an end to end brand experience covering everything from strategy to visual identity, brand architecture and the amalgamation of 20 brands into a single digital platform.

At Saffron our employee value proposition is being "Open to Everywhere". What does this mean for you in practice?

Given Saffron has a natively global culture, it's our promise to stay true to that. The idea behind the EVP is to continually challenge ourselves.

How did you get to the role you're in today?

Having started off as a digital designer and developer, I moved into project management because I found I was able to translate what businesses want and help them along the path to realise their objectives both in brand and digital. Plus I'm intensely organised which makes me a good Programme Director.

Any advice for someone wanting to join Saffron?

Be you, be eager, as we're all here to learn from each other.